Taylor Center High School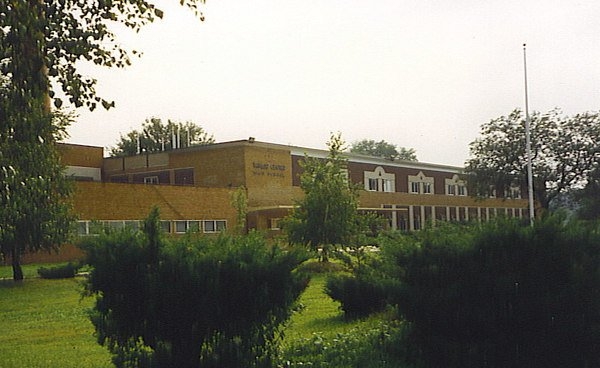 ALMA MATER - BLACK AND GOLD
Black and Gold we honor you, to your colors we'll be true.
Taylor High we pledge to thee, all our faith and loyalty.
School we love we're proud of you, to you we'll be forever true.
Alma Mater school we hail, through the years we'll never fail.
Taylor Center here we stand, as we pledge our heart and hand.
Your traditions we'll uphold and your colors Black and Gold.
And with each succeeding year, all your mem'ries we'll hold dear.
Taylor Center hail to thee, in our thoughts you'll always be.
Written by Barbara Weigel and Rev. Weigel
Fight Song
Go Taylor High School, Champions of them all.
Drive us home to victory, Come on boys let's hear that call.
Rah, Rah, Rah.
Roll out the score boys, Victors to the end.
We're all behind you shouting, "Go Rams", Come on Taylor High, Let's win!
Walk down memory lane by John Pantalone
Taylor Opened its first high school, Taylor Center High School, in September of 1953, starting with 9th graders only and then progressing with that grade until its first graduating class in June of 1957. In June of 1957, 299 students graduated from Taylor Center High School. The Class of '57 led the way for another 16,414 graduates that followed.
I started teaching in Taylor in September of 1955 and that meant the Class of '57 was starting their Junior year.
I remember split days--the Senior High starting school at 7:00 a.m. and going until 12, and then the 7th and 8th grades coming in to TC at 12:30 and staying until 5:30 p.m.
What an imposing figure Mr. Anthony Matulis, Principal, was.
The Superintendent's office was at the far northwest corner of the first floor hall--right across from my first classroom (talk about pressure). The Superintendent at that time was Orville Jones. His son Bill was in the Class of '60.
What a great lady Azalee Pauloski was. She was Assistant Principal and in charge of the counselors.
Do you remember that a machine shop class was taught out by the bus garage? The instructor was Don Graham.
The first football team in Taylor Center history with seniors on the squad played nine games. The team lost three of their first four games and then had a five-game winning streak ending with a 50 to 6 victory over Detroit Wilbur Wright.
What a remarkable season. The Rams were coached by Jim Maley and Bill Jacobs. Some of the seniors who played on that great team were: Clint Straub, Ed Nowakowski, Steve Polander, Ken McClearen, Stan Donaldson, Sean Calnan, Ray Greene, Gary Falkenberg, Mike Pawelak, Glen Russell, Mike McKinnis, Jerry Kinsel, Jerry Picard, Harry Louria, Larry Barron, Ralph Urban, Lou Bacho, Norb Berro and Jerry Cox.
Gail Fesler Vespa, Class of '66, recalls having Chuck Shonta as a sub and how cool it was to have an NFL player as a teacher. She also recalls drag racing--her territory was on Ecorse Road between the I-94 bridges, a stretch of exactly a quarter mile.
Judy White Warner, Class of '58, sends this: "GAA played a very important part in my life, as I had a good sports background when I began teaching physical education in 1962. Miss Duffy was not only the gym teacher, but the Director of our Athletic Association. We could earn a school letter. There were no competitive sports for females at that time. JV cheerleaders Sue Phail, Virginia Malewsky, Janet Fedorinchik and I enjoyed doing the 'Rams Train' cheer. Mr Furbush was an excellent drama director and teacher. When I began teaching in Taylor he became my colleague."
In 1960 the Taylor Center Rams basketball team coached by Bob Sclater had an outstanding year. Led by Senior So-Captains Spencer Hammons, Fred Thomann, and Wayne Thweatt, the Rams had a 14 win, 1 loss season. The Rams outscored their opponents 1061 to 78, averaging 72 points a ball game.
The '60 Rams had a remarkable tournament run, defeating Edsel Ford in the District Championship 70-49. The Regional Final with Dearborn Fordson was a thriller, with the Rams defeating Fordson in overtime 50-49. This put the Rams in the State Quarter Finals against Pontiac Central. The Rams were leading at half time when their 6'9" Center Fred Thomann picked up his 4th foul. Outsized with Fred spending much of the 2nd half on the bench, the Rams suffered a 71-52 loss.
Fred Thomann received All League, All Area and All State honors. Fred went on to an illustrious career at MSU where he played varsity ball for three years. Upon graduation from State, Fred taught and coached in the Plymouth School District. He has coached both boys' and girls' basketball and has been one of the most successful coaches in the State of Michigan's history.
Spencer Hammons was recognized as All League, All Area, and honorable mention All State. Spencer was also a tremendous baseball pitcher. Spencer graduated from Northern Michigan University and resides in Allen Park.
Wayne Thweatt was honored with All League, All Area and honorable mention All State. The last we heard is that Wayne is living in West Virginia.
The rest of the starting five for that great ball team were Senior Joe Miller and Junior Russell Stroud. Many feel this starting five was the best to ever represent a Taylor School.Zapatillas trekking